Post by tanephar on Aug 12, 2017 1:41:40 GMT
I've finally got all those little issues sorted and I've been printing up a storm, mostly things to tidy up the appearance, and strengthen the DP5. First I did these corner brackets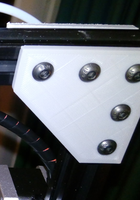 I put them up on thingiverse here
www.thingiverse.com/thing:2472064
Then I separated the x axis motor lead and switch lead, as suggested in one of those helpful and informative posts in this user group, now I tried the 2020 clip, which was good but then I found these 2020 covers, which I remixed and posted here
www.thingiverse.com/thing:2470149
, so this is my twist on tidying things up
These red ones are just for contrast, doing them again in black so they look like below.
I'm currently working on a system for filament spools with guided bearings and an attachment for the LED goose neck lamp I have attached to the gantry, don't like that spring clip which comes with it, besides that clip could be handy to hold pieces as I glue them.
I sliced everything in MatterControl, and any remixes or designs I use SketchUp, most are printed with 0.3mm first layer, 0.2mm layers thereafter, 30% grid infill, using DMS PLA at 200°C with the bed at 40°C. I flashed the firmware with the 1.1.4 kindly supplied by systpro, freakin' great work, I really like the better firmware interface with axis movement. I was having issues with the printer resetting waiting for temperatures. I was playing around with temperatures, trying to find the best settings for me, I was getting the reset at 210°C, but foound I was getting ooze and stringing, so went down to 200°C and have no more issues.
The other thing I found was the default E steps/mm of 94.49 was seriously out. I calibrated my extrusion, by measuring 100mm from the base of the cold end, and using MatterControl, or the move axis function, asked to extrude 100mm, I did this 5 times, and from memory the result was averaged at 35mm, so I used this formula, the average was gained by adding the 5 measurements, and dividing by 5. Then you take the current steps/mm and divide it by (average/100) and input this result into the E steps/mm value in the control / motion page of the firmware or using MatterControl or your favorite EEPROM updater. I am at 250 steps/mm and have a nice steady extrusion with good looking prints.
Another thing I found was that a 10mm at 75 mm/s retraction has solved the stringing issues. So there you go, hope this proves useful to someone out there.